Doctor of Medicine
Technion - Israel Institute of Technology, Rappaport Faculty of Medicine
Residency
Winthrop University Hospital, SUNY at Stony Brook
Fellowship
Mattel Children's Hospital, UCLA Medical Center
Benjamin I. Enav, MD
Board Certified in Pediatric Gastroenterology
Dr. Enav graduated from Binghamton University with a B.A. in Biology. His career in medicine started in Binghamton, New York while working on the university ambulance service. He attended medical school in Israel, where his family roots are. After completing his medical degree, at the Technion - Israel Institute of Technology, he spent an additional year doing medical research.
Dr. Enav returned to the United States for his residency in pediatrics at Winthrop University Hospital in Mineola, New York. He then pursued his fellowship training in pediatric gastroenterology, hepatology and nutrition at Mattel Children's Hospital, UCLA. After completing fellowship, Dr. Enav moved to Northern Virginia.
His clinical interests include Eosinophilic Gastrointestinal Disorders (EGIDs), Inflammatory Bowel Disease (IBD), Functional Abdominal Pain, Feeding Difficulties, Gastroesophageal Reflux Disease (GERD), and Celiac Disease. He has received national recognition in the field of eosinophilic disorders as part of the medical advisory panel for the American Partnership for Eosinophilic Disorders (Apfed). Dr. Enav is also well published in several peer reviewed medical journals.
Dr. Enav's approach to caring for his patients incorporates evidence based medicine, a multidisciplinary effort and supporting patient advocacy. He recognizes the need to collaborate with specialists in the fields of feeding therapy, nutrition, psychology, allergy and immunology as well as your child's pediatrician to provide the highest level of care for your child. He has been recognized as one of the top pediatric gastroenterologists in the area by Northern Virginia Magazine and Washingtonian Magazine.
More about Dr. Enav...
---
Brittany Shapiro, RD, LD
Registered Dietitian
Brittany Shapiro has extensive experience working in the field of pediatric nutrition. She first received her B.S. in Dietetics, with a minor in Spanish from the University of Maryland. Brittany then went on to complete her Dietetic Internship from the National Institutes of Health (NIH), focusing on providing medical nutrition therapy to the pediatric population. She is a pediatric dietitian at Children's National Medical Center in Washington, DC and has been seeing patients with Dr. Enav since 2017.
Brittany is available for consultation with patients seen by Dr. Enav as well as patients who are not part of the practice. She can be reached directly to set up an evaluation via email: [email protected] or by calling: 202-643-3126. She does not submit to insurance and can be contacted directly regarding her fees.
Capital Pediatric Nutrition Website
Kerri Weldy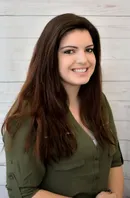 Kerri joined PGNOVA in the summer of 2015. She is pursuing a degree in Healthcare Administration at Northern Virginia Community College. Kerri is an avid Pittsburgh Penguins fan and bunny enthusiast.